Hacia un catálogo colectivo digital de comedias sueltas en bibliotecas académicas norteamericanas: una nueva herramienta de investigación para el teatro clásico español
Resumen
Este ensayo explica los objetivos de nuestro proyecto dedicado a especialistas en teatro clásico, bibliógrafos e historiadores del libro. Pretendemos crear un censo exhaustivo en línea de comedias sueltas en bibliotecas norteamericanas, con rigurosos registros bibliográficos, imágenes de portadas y colofones y un fichero de autoridades. Se complementa con ensayos de reconocidos expertos. Las comedias sueltas son notoriamente difíciles de rastrear con precisión debido a la inexactitud con la que se han catalogado históricamente.
Nuestro sitio web ambiciona remediar este problema.
Descargas
Los datos de descargas todavía no están disponibles.
Citas
Alston, Robin (2004). "The History of ESTC", The Age of Johnson, 15: 269-329.
Bergman, Hannah E.; Szmuk, Szilvia E. (1980-81), A Catalogue of Comedias Sueltas in the New York Public Library, London, Grant and Cutler, 2 vols.
Boyer, Mildred Vinson (1978), The Texas Collection of Comedias Sueltas. A Descriptive Bibliography, Reference Publications in Latin American Studies, Boston, G. K. Hall.
Candela, Gustavo; Escobar, Pilar; Carrasco, Rafael; Marco, Manuel, "Migration of a library catalogue into RDA linked open data", Semantic Web Journal, 01/09/2016 [14/03/2018] http://www.semantic-web-journal.net/content/migration-librarycatalogue-rda-linked-open-data-0
[CCSSUSA] Comedias Sueltas USA: Survey of Spanish Comedias Sueltas Printed before 1834 in the Collections of US Libraries (2016-), Nueva York, Pine Needles Foundation [14/03/2018] http://www.comediassueltasusa.org
Cruickshank, D. W. (2016), "Four Editions of Cada uno para sí. A Bibliographic Challenge = Cuatro ediciones de Cada uno para sí. Un reto bibliográfico", Comedias Sueltas USA, Nueva York, Pine Needles Foundation [14/03/2018] http://104.198.234.110/essays/four-editions/ y http://104.198.234.110/es/essays/four-editions/
[FBVMC] Fundación Biblioteca Virtual Miguel de Cervantes (s.d.). "Datos enlazados = Linked Open Data", FBVMC.Labs, Alicante, Universidad de Alicante [14/03/2018] http://data.cervantesvirtual.com/about?lang=es
Fumerton, Patricia, dir. (2003-), English Broadside Ballad Archive [EBBA], Santa Barbara, University of California at Santa Barbara [14/03/2018] https://ebba.english.ucsb.edu/
Lovins, Daniel; Hillman, Diane (2017), "Broken-World Vocabularies", D-Lib Magazine, 23/3-4 [14/03/2018] https://doi.org/10.1045/march2017-lovins
[OCLC] Online Computer Library Center (2010-), VIAF. The Virtual International Authority File, Dublin, Ohio, OCLC [14/03/2018] https://viaf.org/
[RBMS] Rare Books and Manuscripts Section, Association of College and Research Libraries (2011), Descriptive Cataloguing of Rare Materials (Books), Washington, D.C., Library of Congress.
Szmuk, Szilvia E. (1985), A Descriptive Catalog of the Collection of Comedias Sueltas in the Hispanic Society of America, tesis doctoral, Graduate Center, City University of New York.
Szmuk, Szilvia E. (2001), "A Prelude to a Union List of Comedias sueltas" Silva, Studia philologica in honorem Isaías Lerner, eds. Isabel Lozano-Renieblas; Juan Carlos Mercado. Madrid, Editorial Castalia, 2001: 675-86.
Tennant, Roy (2002), "MARC must die", Library Journal, 15/10/2002 [14/03/2018] http://lj.libraryjournal.com/2002/10/ljarchives/marc-must-die/
Whitney, James Lyman (1879), Catalogue of the Spanish Library and of the Portuguese Books Bequeathed by George Ticknor to the Boston Public Library Together with the Collection of Spanish and Portuguese Literature in the General Library, Boston, The Trustees.
[W3C] World Wide Web Consortium (2014), "RDF 1.1 Semantics", 2/25/2014 [14/03/2018] https://www.w3.org/TR/rdf11-mt/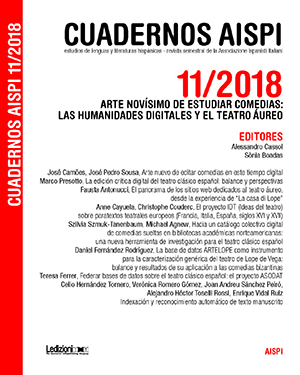 Descargas
Sección
Articulos de Lengua
Licencia
La revista está publicada bajo la licencia Creative Commons CC-BY.